We promise you won't find them in any guidebook
The World of Pubs & Taverns: A Golden Mile
(Discover the beer drinking culture in Belgrade)
The World of Pubs & Taverns: A Golden Mile
(Discover the beer drinking culture in Belgrade)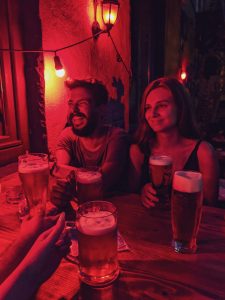 Ever been to a new city and yearning for a cold pint but not sure where to go?
Ever spent a lot of time reading TripAdvisor pubs reviews, only to be disappointed that the one rated #1 is concerned with serving gluten free beer and ciders?
Have no fear, you are in the right place!
Come with us on a pub crawl with our awesome local guides that will take you to pubs which nowadays are regarded as cultural establishments in the eyes of any self-respecting Belgradian!
They will take you from pub to pub, masterfully choosing the shortest or the most interesting routes between them.
Also, choose your difficulty setting, 5 pubs, 7 pubs, or if you dare, try out the golden mile, rumored and feared among beer tourists for ages…
End the night in a club of your choosing, dancing till morning lights. That is if you're still standing, after all that ale.
A Crash Course through Serbian History
A Crash Course through Serbian History
A Crash Course through Serbian History
(Must see points in Belgrade)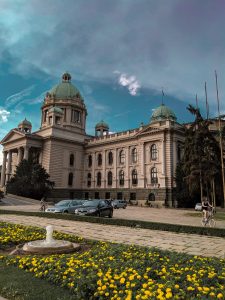 So, you have found yourself in this city of Belgrade and you have no idea where exactly you are?
You are also interested in everyday world politics and have the desire to know how we got here, or where it all went wrong?
Well, you are in the right place for that.
Since the time of Christ, Belgrade was always an important outpost on the border of two civilizations, between the East and the West…
Celts, Romans, Byzantines, Ottomans, Austro-Hungarians, Germans, Russians… they all fought and died to capture or liberate the White city (Beo-grad), and left their bones here.
Many empires collided here, and world history was shaped on these two mighty rivers, where Belgrade proudly stands today as a Serbian capital. Let us take to the journey through time, where we explain world politics, geography, geopolitics and more you wanted to know about the Balkans, but you were afraid to ask.
Hooligans Tour: Storm over Belgrade
Hooligans Tour: Storm over Belgrade
Hooligans Tour: Storm over Belgrade
(Meet the most notorious football fans in the world)
Welcome to the culture of violence.
Dive underneath the surface and meet the fans notorious for their football fanaticism.
Like nowhere else in the world, you will see how deep the ties between history, politics, government and mafia are intertwined with football.
These groups are very high up in Serbian cultural hierarchy and nobody is strong enough to confront them.
There is always a big fear of "what the hooligans will do" whenever there is some important political decision to be made, thus making these groups a political factor to be reckoned with.
Not without reason; former Milošević government started to collapse from the football stadiums, as the fans were chanting paroles against the government.
All that energy poured onto the streets has led to big democratic changes that happened in the 2000s, making these young men even more powerful.
Find out what are these groups, which ones are the most powerful and learn about history of rivalry between them.
Discover fan districts inside of the city and where you can walk freely.
Learn about one of the top five eternal derbies in the world.
Vintage Bike Tour 
(Tour through the Urban Belgrade Neighbourhoods)
First time in Belgrade? A limited amount of time?
Maybe you liked it so much and are thinking of moving here so you want to explore different neighborhoods?
Join us on a night ride through the city, on a vintage bike!
This old, comfortable classy bike, made in Yugoslavia, is perfect for discovering various parts of the city, and night is a perfect time to do so, as the traffic is low and the night is young.
Stroll from hood to hood, listening stories about district names, good places to drink, even better places to grab something to eat in the middle of the night.
See Belgrade differently, dark, free, uninterrupted by daily routines and sunlight.
See architecture marvels that are not on the front pages of the magazines.
See everything.
Did we mention that you will look very Instagram worthy on our retro bikes?
See you in the city.
Cemetery tour of Belgrade
(The glorious dead)
Cemetery tour of Belgrade
(The glorious dead)
Cemetery tour of Belgrade
(The glorious dead)
Through its rich and long history, Belgrade has become a necropolis of many nations, where generations of people who inhabited this city were buried.
For example, a Roman necropolis was found underneath Republic square – a very city center of modern Belgrade.
Close to it, a Celtic burial grounds, interesting by many important artifacts which gave valuable insight in daily life of Celts. A bit further, a Slavic graveyard. Hungarian one, in one of the prettiest parks in the center. Turkish one is beneath the Parliament building. And so on.
Graveyards are usually considered a places of sorrow, because they remind people of sad occasions when they had to visit them. But besides being an eternal home for many, graveyards are also places of history, arts and culture. In them you can find monuments that are masterpieces of art, and many of tombstones have an interesting story to tell.
These are the stories that we are going to tell. Stories about people, big and small, all dead, all in one place. We are going to take you to three important graveyards, all next to each other. New graveyard, which is actually one of the oldest one in Belgrade, a Jewish graveyard and a memorial park Liberators of Belgrade, a burial ground of the fallen soldiers of WW2 which liberated Belgrade in 1944.
Let us give you a crash course through Serbian history and show you our glorious dead, all in one place, where both are past and future dwells.
Neon lights and Cobblestones
Neon lights and Cobblestones
The Urban and Alternative tour of Belgrade
(Neon lights and Cobblestones)
In the past two decades, Belgrade has transformed from a war-time capital of Yugoslavia to the modern hub for young entrepreneurs and IT experts.
Home to a huge population of students, expats and young people who came to Belgrade for work, this city became a melting pot of experiences and cultures of the entire region. As the number of inhabitants grow, so does the urban culture as old abandoned industrial districts are converted to hip areas, blooming with art galleries and alternative night clubs.
We will show you the first outdoor shopping mall in communist Yugoslavia, now turned into design district, an abandoned brewery that now hosts over 20 bars and clubs, and two oldest urban neighborhoods – Dorćol, usually called the Manhattan of Belgrade and Kosančić circle, mostly compared to Montmartre of Paris. Consider this tour as the ultimate guidebook through modern Belgrade.
Custom Tailor-Made Tour
(As the name suggests)
Tell us what you want to see, what you want to hear, feel and taste and we will make it happen!
Based on your interest, we will make a custom tour especially for you!
That can be a heritage tour, to see which mark your nation left on Belgrade, or it can be anything, from cultural differences to rock music.
Write down your idea, and we will create a special tour according to your specifications.
Here are our examples:
Eco tour: Try Water sports and Enjoy Nature within the City
Museum tour: Visit the best museums with a local guide
Scavenger Hunt: Solve a Puzzle of Belgrade
Manufactour: The Art of Crafts in Old Belgrade
Rooftops of Belgrade: Enjoy fanstastic views of the city
Heritage tour: Who did what in Belgrade?